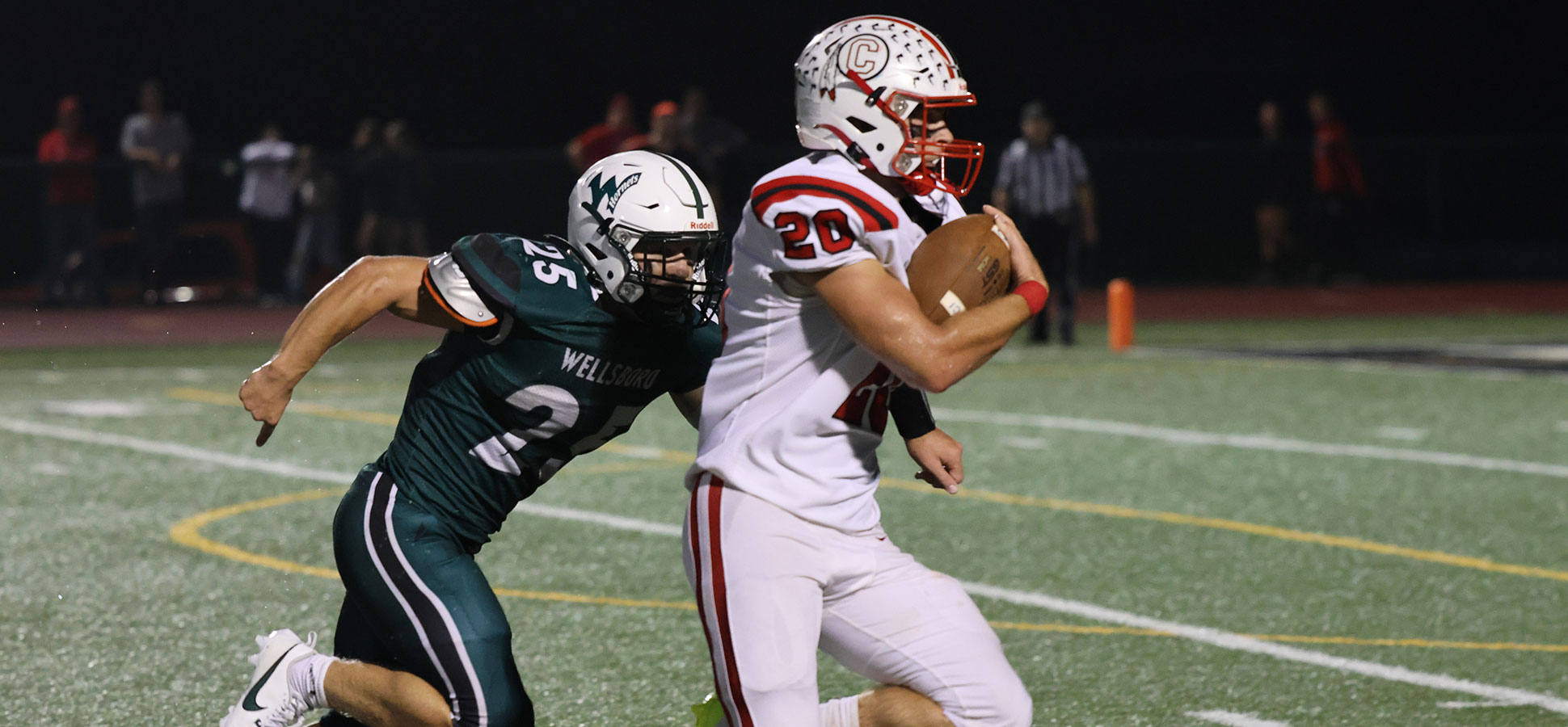 Canton Overpowers Wellsboro On Hall Of Fame Night
By: Ed Weaver / September 8, 2023 / Photo: Dr. Robert Bair
On a night where the Wellsboro Sports Hall of Fame welcomed four new members into the Class of 2023, the Canton Warriors connected on multiple big plays in a 41-6 win over the Hornets on Thursday, September 7.
Once again turnovers plagued Wellsboro. They committed five on the night (4 interceptions, 1 fumble) that broke what was a 7-point game at the end of the first quarter wide open for the Warriors.
"The score isn't indicative of the good things we did in this game," head coach Matt Hildebrand said. "We just didn't capitalize and kept shooting ourselves in the foot all night long. It wasn't a lack of effort, it was a lack of discipline. We have to be better, in practice, in games. Jumping offsides is driving me insane, especially when we have them stopped and then we let them off the hook with something stupid. It's frustrating right now, but we need to stick together, learn from it, and get better and move on. There's still a lot of winnable football games on our schedule."
Both teams started with three-and-outs on their opening drive, however Canton capitalized on Wellsboro's first turnover of the evening. As junior quarterback Will Gastrock dropped back to pass Dawson Burgess undercut the route in the left flat, intercepting the pass and returning it 30 yards for the game's first touchdown. Another Wellsboro three-and-out led to Canton's second score, this time from their offense. On the second play of their second drive Michael Davis found a crease in the middle of the Hornet defense and raced 58 yards to pay dirt. Alexis McRoberts' kick split the uprights putting the Warriors up 13-0.
Wellsboro's third drive ended in yet another three-and-out but they caught a break defensively and capitalized for their only touchdown of the evening. With the Warriors back in their punt formation freshman Keagan Spaar broke through the line, blocked Davis' punt, and sophomore Hayden Stevens recovered it deep in Canton's territory at the 19. A block in the back during the play moved the ball down to the Canton 9, where Gastrock scampered in on the very next play, cutting the lead to 6-13 with 1:54 remaining in the opening quarter.
That would be as close as Wellsboro would come to the two-time PIAA Class 1A semi-finalists.
Canton took advantage of another Wellsboro turnover, this one on a fumbled punt return at Wellsboro's 39-yard line. Two plays later Ben Fitch found Davis behind Wellsboro's secondary for a 37-yard score, increasing Canton's lead to 21-6 with 7:04 left in the half. Just over three minutes later Davis would strike again, this time on a 24-yard run to give the Warriors a 28-6 lead heading into the half.
Canton scored two more times in the second half, both on passes from Fitch. With 35.9 seconds remaining in the third, Fitch found Aydin Holcomb for 23 yards on 3rd-and-13. Then in the fourth, Fitch found Davis wide open again in the Hornet secondary. This score went for 44 yards with 9:53 to play putting Canton up 41-6.
Fitch completed 8-of-11 passes for 218 yards and 3 TDs. Davis caught 3 passes for 160 yards and 3 TDs and also finished with 105 yards on the ground on 13 carries. Hudson Ward added 37 yards on 7 attempts and also caught 3 passes for 32 yards. Holcomb, in addition to his TD grab, also rushed 5 times for 20 yards.
Gastrock finished 10-of-23 for 91 yards and led Wellsboro on the ground with 10 yards on 12 carries. Freshman Max Mascho also added 9 yards on two carries. Senior Hayes Campbell caught 4 passes for 28 yards, sophomore Dylan Copp caught one pass for 13 yards, junior Jacob Dean hauled in one pass for 19 yards, and sophomore Marek Mascho caught 3 passes for 33 yards.
Defensively Wellsboro came up with four turnovers (all Canton fumbles) of their own, something which Hildebrand was pleased with.
"We got turnovers and we made stops but we failed to capitalize off them. We get some fumbles recoveries, the blocked punt, we did some good things and others that were foolish. We have to more disciplined moving forward."
Wellsboro (1-2, 1-1 NTL Large School Division) travels to Athens next Friday while Canton (3-0, 3-0 NTL Large School Division) hosts Towanda next Saturday afternoon.