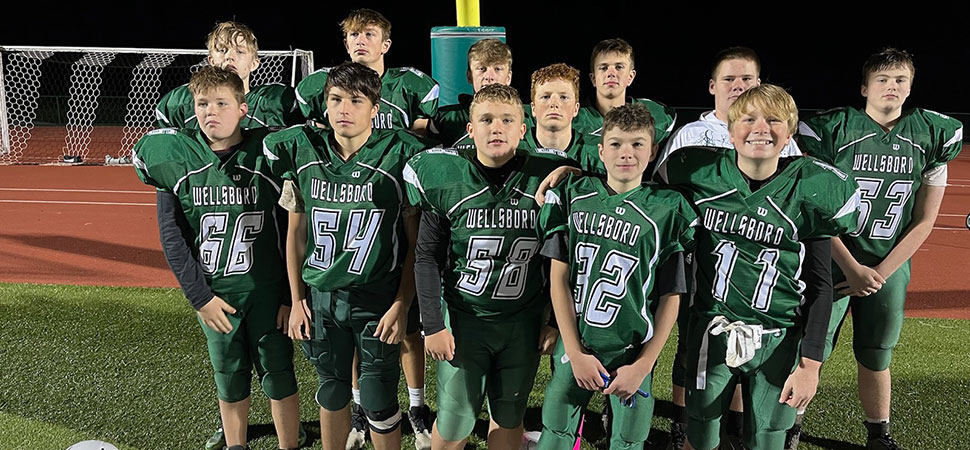 Enck's Big Night Leads Hornets To Shutout Of Rival North Penn-Mansfield In Season Finale
By: Ed Weaver / October 19, 2023
Kody Enck scored three touchdowns and made an interception to lead the Junior High Football team past rival North Penn-Mansfield, 45-0, in the team's final regular season game on Wednesday, October 18.
On the second play from scrimmage the 8th grader broke off a 40-yard run that sparked a dominant first half for Wellsboro. On the ensuing kickoff, Reed Richardson recovered a fumble giving Wellsboro back the ball, where he would punch it in on third and goal. Ransom Schultz caught the two-point pass from Griffin Morral, putting Wellsboro up 14-0.
On Wellsboro's next possession, Morral found Enck in the flat for another touchdown, however the following two-point run by Gavin Carson failed. But, Richardson scored his second touchdown of the day on Wellsboro's next possession.
Wellsboro scored again after an Enck interception. Morral connected with Christian Main on a long pass to get the ball down to the one-yard line before taking it in himself for the touchdown. Right before the half, Matthew Robbins strip-sacked North Penn's quarterback in the end zone for a touchdown. Robbins completed the PAT attempt to make the score 39-0 going into the half.
In the second half, Wellsboro's defense held strong to retain the shutout. Caleb Crouse had an interception and Enck added another touchdown run to make the final score 45-0.
"This was another great team effort with another turnover on special teams," head coach Shane Mascho said. "It has been a pleasure to work with these 8th graders the past three years. Their hard work in the summer has helped them close the gap on some of the local teams. I hope they stay together and stay hungry to keep getting better every year."
The young Hornets finish the 2023 season with a 5-2 record.
Wellsboro Football would also like to thank coach Coach Reese for completing his 30th year on staff.