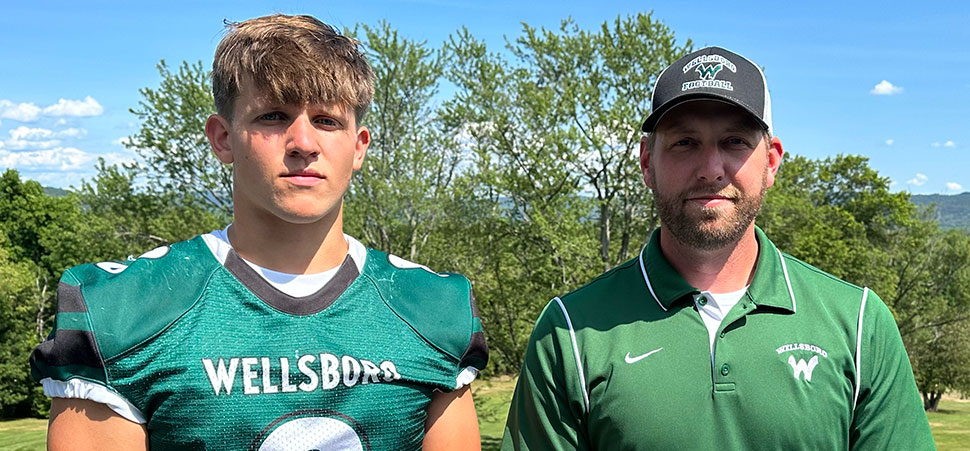 Hildebrand, Campbell Take Part In NTL Football Media Day
By: Ed Weaver / August 3, 2023 / Photo: Ed Weaver
Head Coach Matt Hildebrand and senior Hayes Campbell represented Wellsboro at the Northern Tier League's annual Football Media Day event at Shepard Hills Country Club in Waverly, NY on Tuesday.
Last year the Hornets struggled finishing 1-9 with their lone win coming against Wyalusing. This year Wellsboro will have to replace 11 graduating seniors while only returning one junior.
"As a coach I personally learned a lot of stuff, especially how to use guys better than I did last year. You're always learning no matter how many years you've been doing this," Hildebrand said. "You'll see some guys in different spots then they were in last year. We'll look a little different at times so we can utilize our guys to the best of our abilities. Our numbers aren't exactly what we'd like them to be but the kids we have are willing to work. They're young, they've come out every day looking forward to practice. We've had kids working their tails off and come back each day to do it again. We're excited about this group's work ethic and are hopeful for some of the young guys to step up and play and be able to give our starters some breaks. Last year we didn't have that ability, especially with the injuries we suffered. I think we'll be competitive each week, it'll come down to being in shape, staying healthy, and executing. Our goal this year is to play four quarters each week."
When asked about his thoughts on the rest of the league Hildebrand has this to say, "The league is going to be tough, there are a lot of new faces in terms of coaches coming in but the success of those programs speak for themselves. We have to be ready every week and its always been that way. The Troys and the Cantons are also going to be tough like they have been the last few years, so we have to come ready to play."
Campbell enters the 2023 season as Wellsboro's lone senior with a new role, team leader.
"It's definitely been a bigger role this year," Campbell said. "Last year we had good senior leadership but this year with me being the single senior it's a little different. You have to take the younger kids under your wing, show them what's right, help them out at practice, and make sure they show up to practice. We're going to take it one week at a time, try to be better than we were last year, and hopefully win a few more games."
Heat acclimation begins next Monday, August 7, with team camp starting the following week. Kickoff for the 2023 season is August 25 at 7:00 p.m. against Montoursville.