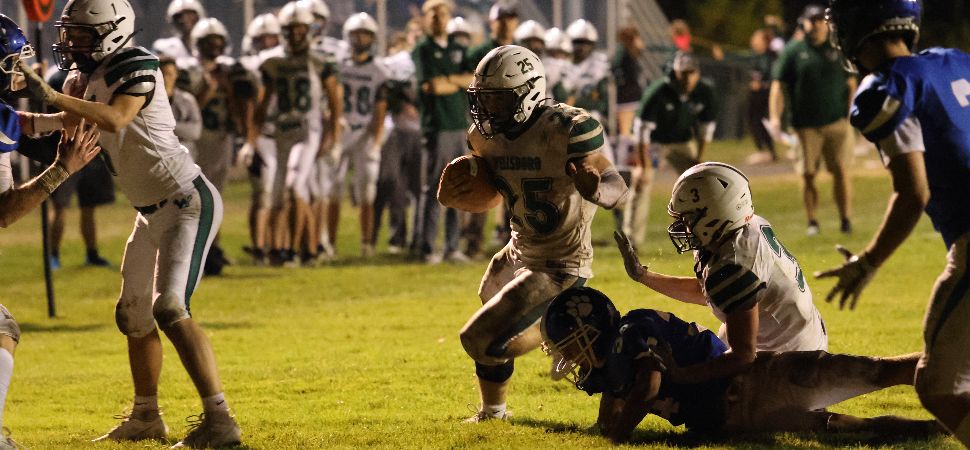 Hornets Drop Season Finale To North Penn
By: Ed Weaver / October 28, 2023 / Photo: Dr. Robert Bair
Wellsboro's season came to an end at the hands of rival North Penn-Mansfield in the annual Morton F. Jones Trophy game on Friday, October 27.
The Panthers scored 21 unanswered points to defeat the Hornets, 21-6 and retain the trophy. North Penn-Mansfield has now won 2 straight Jones Trophy games and three of the last four.
It took both teams the length of the first quarter to kick into gear, but it was Wellsboro who drew first blood. Taking over at their own 14 and 2:16 left in the opening quarter, the Hornets leaned on junior Ryder Bowen. Bowen picked up runs of 8 and 11 yards to move the ball into Panther territory. A 16-yard pass from sophomore Marek Mascho to junior Will Gastrock placed the ball on the North Penn 40. From there, Bowen carried the ball four more times, his final run going 9 yards into the end zone with 9:22 left in the first half. Sophomore Jonathan Carl's extra point was blocked, but Wellsboro still held a 6-0 lead.
The lead didn't last long, however, as the Panthers scored on their ensuing drive. Starting at midfield after a penalty on the kickoff, the Panthers put together a 7-play drive, culminating in a 10-yard Karson Dominick-to-Cale Wagner pass, tying the game. North Penn rolled the dice and went for two, with Dominick and Wagner connecting again to put North Penn-Mansfield in front, 8-6.
The score remained 8-6 in favor of the Panthers all the way to the 4th quarter. As Wellsboro's offense sputtered in the second half, the Panthers put together two fourth quarter scoring drives to seal the victory. With 8:42 remaining Dominick connected with Luke Kreger on a 10-yard scoring pass. The drive started back at the Panther 17 and was aided by three Hornet penalties, two personal fouls and a pass interference. Dominick's extra point was no good, however the Panthers led 14-6.
With 3:26 left in the game, Cale Wagner ripped off a 62-yard run on 4th-and-1, to solidify the win over their rivals.
Dominick finished 15-of-21 for 133 yards and Wagner posted 102 yards on 14 carries. He also caught 4 passes for 53 yards. Kreger caught 5 passes for 35 yards and Cooper Shaw caught 4 balls for 26 yards.
Mascho completed 7-of-16 passes for 16 yards, four of them going to Gastrock for 29 yards. Bowen had a career-high 172 yards on 27 carries. Bowen also led the Hornets with 9 tackles.
North Penn-Mansfield finishes the regular season 4-6 (4-6 NTL Large School Division). They are currently the 7th seed in the District IV Class 2A standings, and will likely play Southern Columbia next week.
Wellsboro (2-8, 2-7 NTL Large School Division) ends the season on a six-game losing streak.