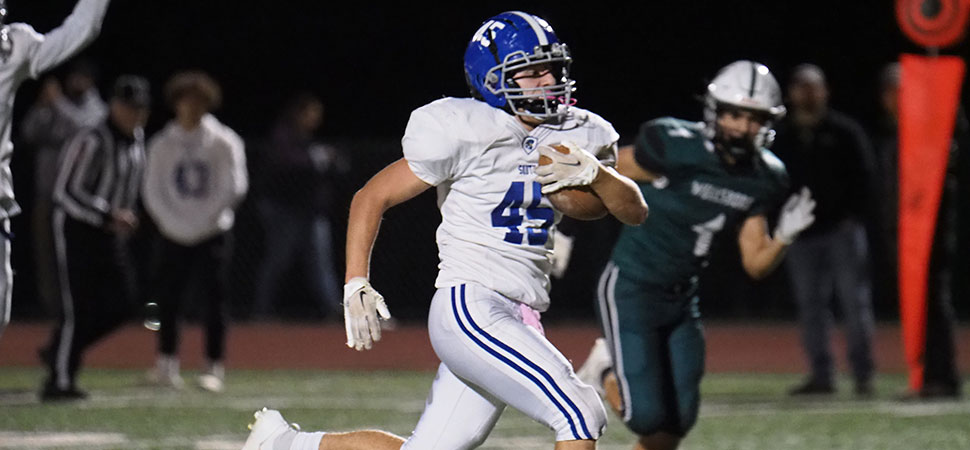 South Ground Game Too Much For Wellsboro
By: Ed Weaver / October 14, 2023 / Photo: Dr. Robert Bair
A 28-point second quarter by South Williamsport broke open a close game and turned it into the proverbial "nightmare" on Friday the 13th, as the Mounties spoiled Wellsboro's Homecoming in a 62-20 NTL cross-over win.
The two-headed attack of Ryan Casella and Kaiser Kistner combined for 247 yards and 4 touchdowns as the Mounties accumulated 503 yards of total offense, 314 of which came in the first half.
South Williamsport set the tone on the game's opening drive as they needed only 5 plays to go 52 yards. Runs by Casella and Kistner got South down to the 3 where Tadd Lusk capped the opening drive on a QB sneak, putting the Mounties up 7-0 early. Wellsboro answered on their opening drive of the game, aided by two South personal fouls. A Will Gastrock run and completion to Gastrock from sophomore Marek Mascho moved the ball out to midfield, then the Hornets moved into South territory on their 2nd personal foul. A 15-yard pass from Mascho to senior Hayes Campbell, and another personal foul, setup Wellsboro at the South 7. Three plays later Mascho broke contain on a naked boot and scampered into the end zone from 4 yards out. Sophomore Jonathan Carl's extra point split the uprights, tying the game at 7-all 5:59 left in the opening frame.
South Williamsport went back to the ground on their second drive, churning out 65 yards on 8 runs, that ended with a 30-yard by Kistner, putting the Mounties back on top, 14-7. South further extended their lead to 21-7 early in the second quarter. This drive, however, they used their aerial attack. On the drive's fourth play, Lusk found Landyn Gephart wide open as Gephart made a diving snag at the Wellsboro 11. Casella would cap the drive on a one yard run with 7:07 left in the half.
The focus item for the Mounties this week was limiting turnovers.
"We've had 18 fumbles and lost 10 coming into tonight so we wanted to play a turnover free game," Mountie head coach Chris Eiswerth said. "Wellsboro had a good program, their coach is one of the winningest active coaches in the Northern Tier, #8 is a stud, and the way you spread you out, you have to drum up a clean game. Early on it was nip and tuck. We had a rash of penalties that we need to clean up going forward. Everyone is beat up, everyone is hurt, everyone's playing young kids and you just thank the good lord to come out with a win on the scoreboard."
Again the Hornets fought back to make it a one-score game. Aided again by two South personal fouls the Hornets capitalized to move the ball inside the Mountie 40. Campbell and Mascho connected again to give Wellsboro a first down at the 24, then Mascho evaded South's defensive line, caught the edge, and found the end zone from 24 yards out. Carl converted his second PAT attempt, cutting the lead to 21-14.
That, however, would be as close as the Hornets would get the rest of the way as the Mounties went on to score three more touchdowns before the end of the half. After Wellsboro's touchdown Casella and Kistner split five carries, with Casella finishing the drive on an 18-yard run, to put South back up 14. Then Wellsboro was hit with the turnover bug, as back-to-back interceptions led to 14 more points. Dylan Scheller made the first interception that led to Casella's third TD of the quarter, then Casella came up with the 2nd interception, with Scheller hauling in a 30-yard pass from Lusk with no time left on the clock.
At the half South Williamsport led Wellsboro, 42-14.
South Williamsport scored three more times in the second half to pull further ahead of Wellsboro. With 8:46 left in the third quarter Lusk connected with Gephart for their 2nd TD of the night, a 32-yarder, to push the lead to 49-14. Then in the 4th, Evan Barry scored a pair of TDs, the first on a 33-yard run, and the second coming on a 65-yard swing pass from Chance Quimby. After those two scores the Mounties led 62-14.
Wellsboro's final points came on their final drive on a Mascho to Campbell 30 yard pass.
Casella led South Williamsport with 143 yards on 16 carries while Kistner rushed 15 times for 104 yards. Lusk finished with 100 yards even through the air, completing 3-of-5 pass attempts, two of which went to Gephart for 70 yards.
"We pride ourselves on that," Eiswerth said of his ground game. "We rushed for over 300 yards last week. You have success then defenses stack the box so we try to go deep. We've done it for years now. It's our philosophy. We're pleased with the guys, a handful stepped in and played not being 100%."
Mascho led both the Hornet air and ground attack, completing 10-of-18 passes for 128 yards and rushing 9 times for 23 yards. Campbell caught 5 passes for 86 yards and Gasrtock caught 3 passes for 18 yards and rushed 9 times for 16 yards. Campbell also led the Hornets with 13 tackles and sophomore Hayden Stevens had 7 tackles.
"We had some stuff that was open and we missed that could've brought it to a one score game at halftime, but we missed on it," head coach Matt Hildebrand said. "We're missing some key guys right now, not having Ryder Bowen making 15 tackles a game hurts along with a big part of our offense. It was a tough one tonight. We let it go, we go back to the drawing board. We have two games left that we have a pretty good shot at. We'll take it one game at a time and get ready for CV on Monday."
The loss is the Hornets' 4th in a row, dropping them to 2-6 (2-5 NTL Large School Division) on the year. The Hornets finish out the 2023 regular season on the road, next week at Cowanesque Valley and the following week at rival North Penn-Mansfield in the Morton F. Jones Trophy game. South Williamsport (6-2, 5-2 NTL Small School Division) travels to Hughesville next week before hosting Northwest Area in their regular season finale.