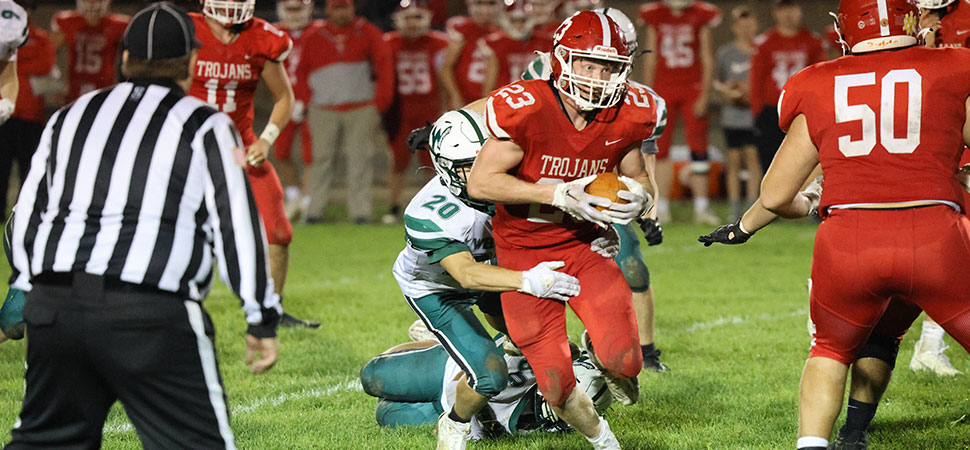 Troy Overpowers Wellsboro In 51-7 Homecoming Win
By: Ed Weaver / September 30, 2023 / Photo: Dr. Robert Bair
The Troy Trojans amassed 503 yards of total offense as they cruised to a 51-7 Homecoming win over Wellsboro on Friday, September 29.
It took the Trojans just five plays to find the end zone on the game's opening drive. After three straight runs moved the ball just past midfield into Wellsboro territory, Evan Woodward connected with Mason Smith on a 19-yard pass down to the 30. One play later Woodward caught the sideline and scored from 30 yards out, putting the Trojans up 6-0 after Lincoln Chimics extra point was blocked. Troy took back over after the Hornets' opening drive stalled after five plays, and immediately found the end zone for a second time in the opening frame. This time Woodward connected with Brendan Gilliland on a 16-yard pitch and catch. The same two hooked up for the ensuing two-point conversion, and Troy led 14-0.
Troy increased their lead midway through the second quarter on an 8-yard run by Jackson Taylor, however Jack Burbage's two-point run attempt was denied. With 41 seconds remaining in the half, Woodward and Gilliland connected again, this time from 27 yards away, putting the Trojans up 28-0 at halftime.
Both teams traded possessions to start the second half, Wellsboro's ended in a punt and Troy's ended on an interception by freshman Max Mascho. After three plays Jonathan Carl was forced to punt the ball back to the Trojans. The sophomore delivered a 45-yard punt, setting the Trojans up at their own 24. From there, Troy manufactured an 8-play drive, culminating on a 4-yard run by Woodward. Charles Oldroyd converted the two-point try putting Troy up 36-0 and enacting the Mercy Rule with 43 seconds remaining in the third.
As the Trojans put in their second stringers, Wellsboro's offense seized the moment. Carl returned the following kickoff 21 yards to setup the Hornets at the 43. On their first play from scrimmage junior Ryder Bowen ripped off his longest run of the night, a 35-yarder, down into Troy territory at the 22. A 19-yard pass from sophomore Marek Mascho to senior Hayes Campbell got Wellsboro down to the 3-yard line, where Campbell would eventually punch the ball in from a yard out on 4th-and-goal to give Wellsboro their only points of the game with 8:38 remaining.
Troy closed out the contest with two more rushing touchdowns, a 66-yarder by Gilliland with 5:57 left to play, and a 66-yard run by Noah Ellis with 2:18 remaining.
Woodward finished 10-of-11 through the air for 119 yards with Smith also completed a pass (to Woodward) for 39 yards. Gilliland led all rushers with 126 yards on the evening. Woodward finished with 46 yards on 4 carries, and Smith and Taylor each carried the ball 4 times for 40 yards. Oldroyd also added 26 yards on 4 attempts. Gilliland (2) and Lincoln Chimics (3) both caught passes for 43 yards and Smith also hauled in 3 passes for 27 yards.
For Wellsboro, Bowen finished with 44 yards rushing on 15 carries, Marek Mascho carried the ball 4 times for 11 yards, and Campbell rushed 5 times for a yard. Campbell caught 3 passes for 52 yards and Carl hauled in 2 passes for 21 yards. Max Mascho also caught one pass for 12 yards.
Bowen made 9 tackles on the evening and Campbell and Marek Mascho added 6 tackles each. Sophomore Dylan Copp also forced and recovered a fumble.
Troy improves to 6-0 on the season and remains tied atop the Northern Tier League Large School Division standings with Canton. The Hornets fall to 2-4 overall and 2-3 in the Large School Division standings.
Wellsboro hits the road for Wyalusing next Friday while the Trojans travel to Towanda.