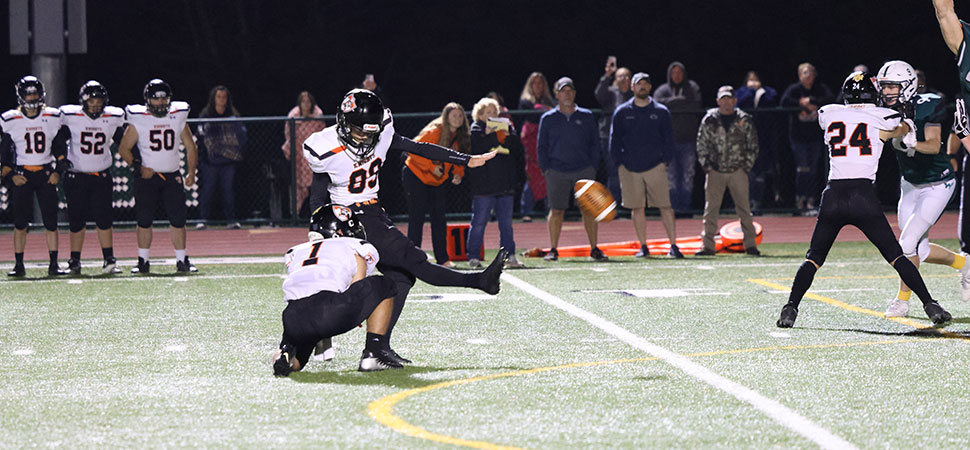 Wheaton Field Goal Lifts Black Knights Over Wellsboro In Overtime
By: Ed Weaver / September 23, 2023 / Photo: Dr. Robert Bair
A 22-yard Jack Wheaton field goal in overtime gave the Towanda Black Knights a 20-17 victory over Wellsboro, dropping them to 2-3 on the year, on Friday, September 22.
"We worked on kicking and special teams all summer," Towanda coach Craig Dawsey said. "Jack did a great job in a pressure situation. I was really happy with the team. We fought through a lot of adversity and this was a big win for the kids. We've been working really hard and I'm glad we got this one."
Towanda forced Wellsboro, who started the overtime period with the ball, to try a field goal from 29 yards out after an errant snap backed the Hornets up 16 yards on 2nd-and-6. Sophomore Jonathan Carl's kick was just wide of the goal posts, giving the Black Knights an opportunity for the win. Back-to-back runs by Riley Vanderpool, who accounted for 305 yards of Towanda's 378 yards of total offense, moved the ball down to the one, but the Black Knights were hit with a procedure penalty, moving the ball back to the 6-ayrd line. After Vanderpool picked up a yard on 3rd down, Wheaton came on to kick the game-winning field goal.
"I'm not exactly sure what happened (on the snap). I didn't get a chance to talk to the guys or look at the film," head coach Matt Hildebrand said. "This game didn't come down to one play, there were a lot of chances throughout that we had the opportunity to make plays that we didn't. We make those plays earlier and we aren't in that position at the end of the game."
With 3:26 remaining in the third quarter Wellsboro, trailing 9-7 after a Wheaton 25-yard field goal, retook the lead on a 4-yard run by junior Ryder Bowen. Wellsboro held that advantage until the 1:05 mark in the 4th quarter when the Black Knights' Tahshon Garner found the end zone from 5 yards out. Now trailing 17-14, sophomore Marek Mascho, filling in for junior Will Gastrock, led the Hornets on a 10-play drive to move into field goal range for Carl. Facing a 3rd-and-10 at their own 32, Mascho connected with junior Jacob Dean on a 37-yard pass along the Wellsboro sidelines down to the Towanda 31. Aided by a 15-yard facemask penalty Wellsboro got all the way down to the three yard line, where Carl booted a 20-yard field goal with 0.5 seconds remaining to tie the game up at 17-all.
"Considering he gets very limited reps at QB in practice, along with being one of our starting receivers, Marek did a great job of taking us down the field with 1:05 left. His legs, his arm, he did a little bit of everything. I'm very proud of what he did and we can build upon that with him going forward, but in the end we didn't get it done so we'll go back to the drawing board. There are some bright spots, Ryder continues to play great football. He's all over the place on defense, he's a physical runner, he's our workhorse and he just keeps going and going.
Bowen, who rushed 22 times for 118 yards, made 21 tackles (tying him for 4th all-time for tackles in a game), and came up with a 22-yard interception return, scored the game's first points on a 9-yard jaunt into the end zone with 5:53 remaining in the opening quarter.
Vanderpool scored on a 65-yard run for Towanda to start the 2nd quarter, but a bad snap on the extra point try would force the Black Knights to settle for six points instead of seven. Wellsboro held the lead the rest of the first half and up until the 7:44 mark in the 3rd quarter when Wheaton connected on his 25-yard attempt.
Gastrock led Wellsboro through the air, finishing 6-of-12 for 129 yards while Mascho completed 4-of-9 passes for 78 yards. Senior Hayes Campbell caught 5 passes for 105 yards, Max Mascho added 31 yards receiving on two receptions, and Dean, Bowen, and Marek Mascho all caught one pass each. Bowen's 21 tackles led the Hornets defensively while Campbell added 13 stops, sophomore Dylan Copp registered 8 tackles, sophomore Hayden Stevens made 5 tackles, and junior Lincoln DeCoursey finished with 4 tackles. Gastrock also forced a fumble that freshman Ethan Keane recovered.
Wellsboro (2-3, 2-2 NTL Large School Division) hits the road the next two weeks, the first stop being at Alparon Park to face Troy and then heading over to Wyalusing to start October. Wellsboro returns home on October 13 for a Homecoming / Senior Night double feature against South Williamsport.