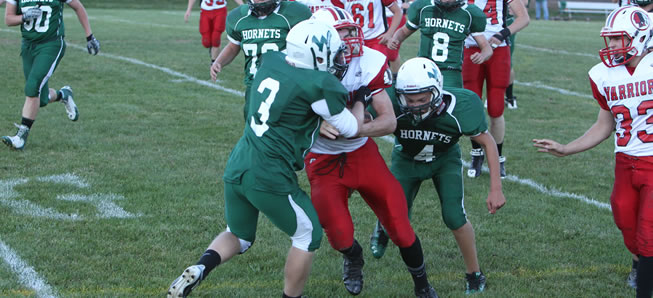 J.V. football falls to North Penn
By: Ed Weaver / October 1, 2013
The Wellsboro J.V. football team had a two-game win streak snapped Monday night against North Penn.
Miscues, penalties, and big plays resulted in a 26-14 loss for the Hornets, dropping them to 2-2 on the season. Junior Jarret Dean scored a rushing touchdown and Junior Dylan Widows caught a pass from Sophomore Anthony Cooper.
Most of Wellsboro's yards on the night came behind the hard running of Dean and Sophomore Nick Tremper.
"We moved the ball very well, but we kept shooting ourselves in the foot," said coach John Davis.
The team will be back in action next Monday night, October 7 as they travel to Athens.