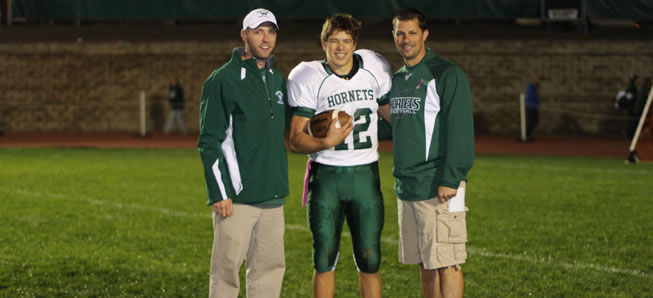 Pietropola eclipses 2,000 yard mark in Hornet win over Sayre
By: Ed Weaver / October 19, 2013
Junior Quarterback Michael Pietropola became the first quarterback in Wellsboro Football History* to throw for more than 2,000 yards in a season as Wellsboro defeated Sayre, 59-29 Friday night.
"It's a great achievement," Pietropola said. "Honestly, I'm not a stat guy. I just want to keep winning, we're 8-0, playing well, and I wouldn't be here if it wasn't for Senior Kyler Widows, Senior Brian Doty, Senior, Blake Gamble, Junior Nick Levindoski, Sophomore Owen Covert. If those guys aren't there, our backs/receivers, scout team, and everyone who comes to practice and works hard, it's everyone."
"I've said it before with Michael, he's put the time in both in season and out of season, and he's very deserving of setting this new milestone," said head coach Matt Hildebrand. "The recognition is great for both him and the program."
Pietropola went 15-20 for 360 yards and 5 touchdowns through the air to finish the game with 2,190 yards and 33 touchdowns on the season.
The game started off in Sayre's favor as Jeremy Kyc returned the opening kickofff 90 yards to put the Redskins up 7-0 early on Wellsboro, but the Hornets would not be denied of their 8th win of the season.
Roughly a minute later, Senior Wyatt Covert scored his first touchdown of the night on an 8 yard run. Junior Jack Chambers' kick was no good and Wellsboro trailed, 7-6. The Hornets wouldn't be down long, however, as Pietropola connected with Senior Dylan Prough on a 58 yard pass to go up 13-7. The Hornets would add to their first quarter lead five minutes later when Pietropola called his own number a found the end zone from four yards out to go up 19-7.
Pietropola threw his second passing touchdown to Junior Kieron Smethers, who accelerated 69 yards for the score to go up 26-7. Sayre battled back as Kyc raced 59 yards on the next offensive play to bring the score to 26-14.
Smethers caught his second touchdown pass of the night as he caught a 24 yard pass from Pietropola with 5:57 remaining in the first half to extend Wellsboro's lead to 33-14. Wellsboro would also add an insurance touchdown before time ran out in the first half as Pietropola found Senior Brandon Owlett for 27 yards to go up 40-14.
The second half started in Wellsboro's favor as Owlett returned the opening kickoff 86 yards to put the Hornets up 46-14. Sayre scored for the third time midway through the third quarter on a three yard run by Kyc. Following a two-point conversion, Sayre trailed 46-22.
The Hornets had an answer for Sayre's touchdown just three minutes later when Owlett caught a 14 yard pass from Pietropola to extend the lead to 53-22 following Chambers' extra point.
Each team would add one more score in the game. Wellsboro's came with 9:39 left in the fourth quarter on a four yard run by Covert, and Sayre's came just two minutes later on a 32 yard run by Kyc to bring the final score to 59-29.
Senior Jermain Brooks led the Hornets' ground attack with 135 yards on 16 carries and Covert finished with 66 yards on 12 carries. Smethers led the team in receiving with 4 catches for 118 yards, Owlett added 114 yards on 6 receptions, and Prough hauled in 3 passes for 83 yards.
Defensively, Covert led the team with 13 tackles (8 solo), Doty had 12 tackles (9 solo). Prough, Junior Michael Brostrom, and Junior Ben Davis each recorded sacks on the night, and Junior Nick Marple intercepted a pass and returned it 15 yards.
"We saw a little bit of adversity tonight that we haven't seen at this point in the season and I'm happy with how our guys responded," Hildebrand said. "We were able to run the ball effectively tonight, that's something that we haven't done a lot with up to this point.
"Moving on, we have two games left in the season and we're going to need to be more balanced as we were tonight," Hildebrand continued. "There are some things we need to work on, but I'm very pleased with the outcome."
Next week, the Hornets travel to Towanda who are riding high from defeating Loyalsock 22-21 in a thrilling game Friday. The last time Wellsboro beat Towanda was 1997.
"We can't be scared just because we haven't won against them in a long time," Pietropola continued. "They're a good football team but we just need to focus on what we have to do, keep working hard in practice, and continue playing Hornet football."
The win gives Wellsboro an 8-0 (3-0 NTL Division 1) record.
* - Records may not be accurate to date due to incomplete stats. If you know of a record not currently listed on this page, or have game statistics or film from previous years, please contact us.