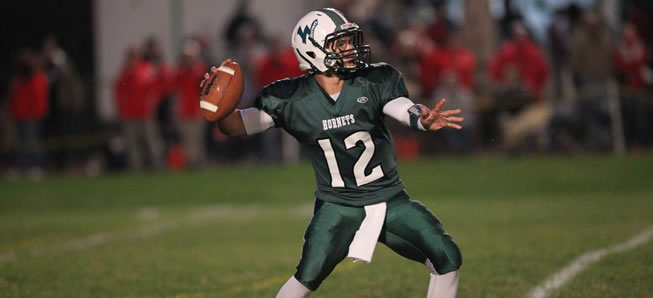 Pietropola named to All-State football team
By: Ed Weaver / December 23, 2014
For the second consecutive year, Senior Quarterback Michael Pietropola has been named to the Class A All-State team by the Pennsylvania Football Writers.
Pietropola earned All-State honors last year after guiding the Hornets to a perfect 10-0 regular season and throwing for 2,755 yards and 39 touchdowns. In 2014, Pietropola led the Hornets to an 8-3 overall record, the Hornets first back-to-back winning seasons since 1995 and 1996, became Wellsboro's new all-time passing leader by throwing for over 2,000 yards to give him 6,150 for his career, a new Wellsboro Varsity Football Record*, despite missing a game and a half due to injury.
"It's an honor to be an all state quarterback and to do it two times is an awesome feeling," Pietropola said. "Being named all-state puts you among the very elite players in the state of Pennsylvania and to be named with them is an amazing feeling. I wouldn't be here today with out my great teammates, my great coaches, and my great family. They all do so much for me and without them none of this would be possible so I would like to thank everyone that has helped me get here. I am very blessed to receive this honor."
Wellsboro skipper Matt Hildebrand, a former high school quarterback at Dallastown and in college at Mansfield University, is very proud of Pietropola and feels that he is very deserving of the honor.
"Michael has earned just about every honor there is to earn as a Wellsboro Football player and put countless hours into making himself the best football player he can. Being named to the PIAA All-State team for the second year in a row is a terrific honor and I can't think of a better way for him to end his high school career," stated Hildebrand. "Michael set new District IV records with 68 touchdowns this year and is only the second QB ever to throw for over 6,000 yards in District IV history. Michael has often been overlooked by smaller all-star selections in his career and in the end I believe that the cream has risen to the top. All of Wellsboro Football is very proud of Michael and this very deserving honor."
WellsboroFootball.com would like to congratulate Michael on his All-State selection, and thank him for all his hard work and dedication to the program during his career.
View the complete 2014 Pennsylvania Football Writers Class A All-State team.
* - Records may not be accurate to date due to incomplete stats. If you know of a record not currently listed on this page, or have game statistics or film from previous years, please contact us.